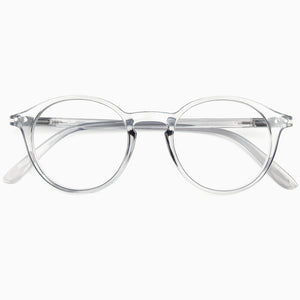 Type L
Sale price Price £9.95 Regular price
+ Free Delivery
Elegant, refined round-shape reading glasses from Gawk Eyewear. The Type L aesthetic is a beautiful marriage between classic frame design and contemporary details. Accented with subtle double hinge pins, for a classy and exclusive look. The round frame suits almost any face shape and looks great on men and women.
Make a statement with Gawk's range of transparent finishes—or you can opt for the luxurious soft-touch opaque colours. The reading glasses feature flexible hinges allowing the frame to adjust to your head size. Designed to be as lightweight as possible for maximum comfort, without any compromise of quality. The combination of flexible sprung hinges, moulded nose pads and a thin, lightweight frame makes them extremely comfortable and perfect for everyday wear.
The lenses utilise aspheric lens technology—offering crisper magnification with a thinner and lighter lens. They come with a custom Gawk Eyewear felt pouch to keep your Type Ls protected in style.